Title: Davidic Worship and Warfare
Speaker: Gary Beaton
Host: Joseph Peck, M.D.
Date/Time: Wednesday, Nov 5, 2014 at 4 pm EST
Duration: 120 minutes
Cost: Free
CLICK HERE to learn more about Gary's Soaring Into Your Destiny training.

Here are two steps to prepare for God to move in power in your life:

1) Print Davidic Worship and Warfare outline before watching the webinar to be able to take plenty of notes and receive everything God has for you!

2) Watch Gary Beaton's tribute to Bob Jones at Bob's memorial service in March 2014 (14 minute video)

A world shaking event will take place between Sept 2014 and Sept 2015. Are you ready?
King David loved the Lord with all of his being and made it a priority to radically worship him.
It's vital that we learn how to live and abide in the tender place of God's heart and Him in ours. We need to nurture intimacy with Him by spending precious time with Him each day and journaling.
Ask, Seek, Knock – Ask Him to Reveal Himself – Ask every day! It's important to know Him, but more important that He KNOWS you.
Psalm 24:3-6 – "Who may ascend into the hill of the Lord and stand in His Holy place?" – PURITY
John 4:24 – "God is a Spirit and those that worship Him must worship in Spirit and in Truth" – TRUTH
Ephesians 2:22 "In Him the whole building is joined together and rises to become a holy temple in the Lord. And in Him you too are being built together to become a dwelling in which God lives by the Spirit." – The Indwelling – Christ in you the hope of Glory. This was one of Bob Jones favorite scriptures.
Isaiah 7:11 – "Ask a sign for yourself from the LORD your God; ask it either in the depth or in the height above." Ask for His fullness.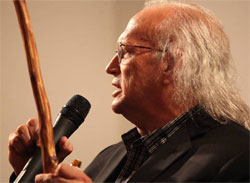 On October 8, the date of the second blood moon, Gary Beaton released the first of three profound messages for the Body of Christ. That webinar set the all-time record for most registrants and live attendees in the eight years I have been hosting professional webinars.
During this webinar, Gary released his second message titled "Davidic Worship and Warfare."
Some of the things Gary discusses during this webinar include:
Abiding in Intimacy – The Indwelling
The Baptism of Fire – Passion & Hearts Burning with Love
The Breaker Anointing – Heaven Invades Earth
Davidic Worship – Sweet Psalmist of Israel
Heavenly Harp & Bowl – 24 Elders
Shekinah Glory – Carrying The Ark of His Presence
Victory – Effective Warfare – Jimmy Doolittle Story
A Time To Act
It's time to radically worship the Lord. Hear the call of God and answer.
Blessings to radically worship the the Lord!
You are welcome and encouraged to share this link with your friends.