ESC Works: Empowering Voices Across Borders
Empowering Voices Across Borders

There is no greater power in a child's life than a trusting adult community!
Title: ESC Works: Empowering Voices Across Borders
Series: The Story Behind The Story
Facilitator: Holy Spirit + Dr. Joseph Peck
Speakers: Laurie Roberts, Beverly Leavitt, Joanne Diaz, Ieesha Esperanza
Panelists: Jerry Goebel, Rick Larie, Troi Cockayne, Victor Spaetgens
Date: Tuesday, April 3, 2012
Duration: 107 minutes
Ways to be involved

Pray
Refer your friends to listen to the replay here
Contribute to Ieesha's Dream Modeling Project – Need $3,200 more by April 11. Praying for $5,000.
Sponsor a child ($50/month)
Plan a mission trip to Chapala, Mexico
$40,000/month will sponsor 1,200 children
MOVE to Chapala

For more information, friend Laurie Roberts on Facebook and then send her a message.
In Matthew 25:40, Jesus says, "Assuredly, I say to you, inasmuch as you did it to one of the least of these My brethren, you did it to Me."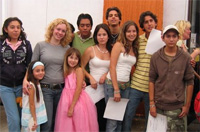 Widows and orphans are very special in God's eyes and caring for them brings extraordinary favor to our lives.
About 7 weeks ago, Laurie Roberts cried out to the LORD for help, He heard, and He put a burden on my heart to help.
What has happened in the past 7 weeks has been incredible and I believe that's because ESC Works has God's heart for the orphans. What the LORD did at KEYS LA to bless Laurie, Bev, Ieesha, and ESC Works was amazing and brings tears to my eyes.
The LORD has called a holy assembly and we are part of that holy assembly. This may be one of the greatest move of God we ever see in our lives.
During this webinar, we …
Released the God story behind ESC Works
Shared God's Vision for ESC Works as a gateway to Mexico
Explained why Mexico matters
Shared Ieesha's Dream Modeling Project
WHY MEXICO MATTERS

Source: With the Focus on Syria, Mexico Burns by Robert D. Kaplan on March 28, 2012



While the foreign policy elite in Washington focuses on the 8,000 deaths in a conflict in Syria — half a world away from the United States — more than 47,000 people have died in drug-related violence since 2006 in Mexico. A deeply troubled state as well as a demographic and economic giant on the United States' southern border, Mexico will affect America's destiny in coming decades more than any state or combination of states in the Middle East. Indeed, Mexico may constitute the world's seventh-largest economy in the near future.

Mexico, in addition to the obvious challenge of China as a rising great power, will help write the American story in the 21st century. Mexico will partly determine what kind of society America will become, and what exactly will be its demographic and geographic character, especially in the Southwest. The U.S. relationship with China will matter more than any other individual bilateral relationship in terms of determining the United States' place in the world, especially in the economically crucial Pacific. If policymakers in Washington calculate U.S. interests properly regarding those two critical countries, then the United States will have power to spare so that its elites can continue to focus on serious moral questions in places that matter less.

God is at work around you. Blessings to join Him in what He is doing!