I Was Busy – Now I'm Not!
Title: I Was Busy – Now I'm Not!
Facilitator: Holy Spirit
Speaker: Joseph Peck, M.D.
Panelists: Carrie C. Stone
Date: Wednesday, January 26, 2010
Start Time: 8 pm EST, 7 pm CST, 6 pm MST, 5 pm PST
Duration: 80 minutes

Our key word is TIME"
Our key message is "Time is your life!" When you waste your time, you waste your life!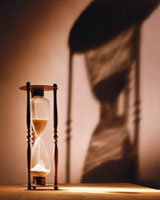 Our key scripture is Psalm 90:12 – So teach us to number our days, That we may gain a heart of wisdom.
And our key question is What does it mean to "number your days?"
According to a best-selling author who has written more than 50 books, "Time is your most valuable possession!" I agree. Don't you?
How much would it be worth to you if I could teach you how to free up 8 hours of your time each week for the rest of your life?
During this webinar, I'll teach you how to redeem your gift of time by…
a) Defining the gap for your time
– Where are you now?
– Where do you want to be 12 months from now?
– How are you going to get there?
– Who is going to help you get there?
– What obstacles get in the way?
b) Discussing the Big Rocks (Priorities)
c) Sharing a few simple strategies to tell your time where to go instead of wondering where it went
Blessings to discover how to experience a life of TIME freedom!