Invading The Seven Mountains With Intercession
Invading The Seven Mountains With Intercession
Presenter: Tommi Femrite
Facilitator: Dr. Joseph Peck
Panelists: Dr. Gayle Rogers, Candace Long, Billie Boatwright, Norma Johnson, Dr. Bruce Cook
Date: Tuesday, August 28, 2012
Time: 8 pm EST (7 pm CST, 6 pm MST, 5 pm PST)
Duration: 90 minutes
CLICK HERE to watch or listen to the replay.
CLICK HERE to order books, CD's, and other products from Tommi Femrite and other featured authors.

CLICK HERE to download the introductory PowerPoint with panelist info.

CLICK HERE to download the main PowerPoint.

Our distinguished panels of experts included: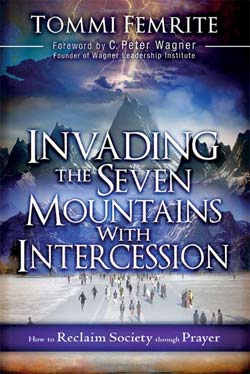 Invading the seven mountains with intercession has a strategic impact on societal transformation. It is not the goal for Christians to dominate society, but to bring about God's Kingdom on earth. When the kingdom of God truly rules on earth, it doesn't matter who sits on what worldly thrones because those ruling and serving throughout the land know which King ultimately holds all power.
The more you understand your role in society the closer you will come to finding the key to transforming whatever sphere of society you operate in.
During this live webinar, Tommi Femrite and her distinguished panel discuss
What professional-level strategic intercession is and is not
How to launch professional-level strategic intercessors into the marketplace
Principles of the Seven Mountains
And much more
Invading The Seven Mountains With Intercession

Blessings to understand how to invade the seven mountains with intercession!