Taking Your Company To The Next Level Spiritually
Title: Taking Your Company To The Next Level Spiritually
Series: VISIONS777: "Casting God's Visions for the Next Decade"
Facilitator: Holy Spirit
Speaker: Charles Robinson
Panelists: Dr. Joseph Peck, Nancy Slocum, Todd and Tammy Mortensen
Date: Wednesday, January 12, 2010
Start Time: 8 pm EST, 7 pm CST, 6 pm MST, 5 pm PST
Duration: 79 minutes
Cost: Free webinar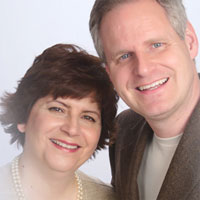 The purpose of this webinar is to help business owners and ministry leaders understand how professional intercession and spiritual coaching can help them prosper in the marketplace and have a much greater impact for the Kingdom of God.
Our key word is FOUNDATION
Our key message is The business of the church is PRAYER!
Our key scripture is Psalm 127:1 Unless the LORD builds the house, they labor in vain who build it; Unless the LORD guards the city, The watchman stays awake in vain.
Charles and his wife Liz are co-founders of WISE Ministries, providing intercession and spiritual coaching for businesses in the USA, Canada, and U.K. for more than 5 years.
Among other things, WISE Ministries provides intercession and coaching for major ministries and companies in the United States and other nations.
During this webinar, Charles addressed these questions:
How is prayer like a garden?
How can I introduce intercession into my company without causing a stir?
How can I know that my business is adequately covered in prayer?
Why should I compensate someone for prayer and coaching?
What are some of the things that intercession and coaching can do for a business owner and his/her company?
What is a "Kingdom Company" and how can it be built?
How important are Breakthrough and favor for a business owner?

Audio Download
Windows users: right-click on the link, and select "Save … As"
Mac users: control-click on the link, and select "Save As"
Will you take 5 minutes to invite 5 people to listen to or watch this recorded webinar to help this go viral?
Here's the link
http://budurl.com/wise001
Also, we appreciate your comments below. JOIN the conversation!
Blessings to choose to take your company or ministry to the next level spiritually!